School Library
Library Time
Each class has an opportunity weekly in the library to listen to books chosen by the librarian or teacher associated with a classroom theme. Books are also available in the classroom based on the theme of the month. Children have the opportunity of check out a book weekly from our diverse collection of fiction and non-fiction books.
Our school library, continues to expand for student and teacher use.
REMINDER: Your child must return the book in order to check out another one.
Meets on Monday and Thursday in the church sanctuary. Bible stories are told at an age appropriate level followed by a prayer and bible song (also known as hymns).
| | |
| --- | --- |
| Fall Term: | Old Testament characters and stories |
| Winter Term: | Jesus′ stories |
| Spring Term: | New Testament characters and stories |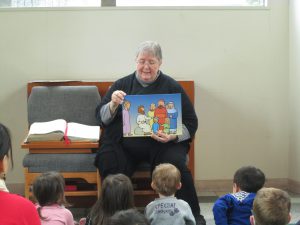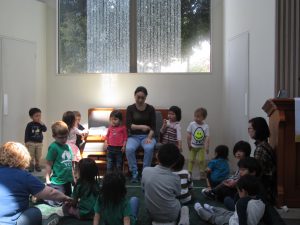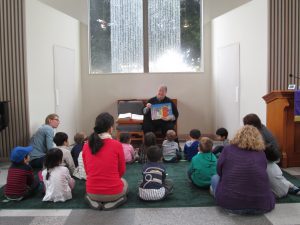 Our chapel schedule is posted in the classroom and available upon request. Older children attend the Children & Worship program at the Green House with Nozomi Brownell.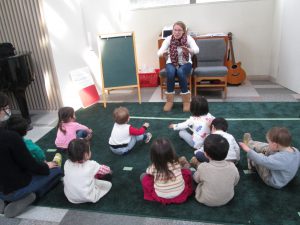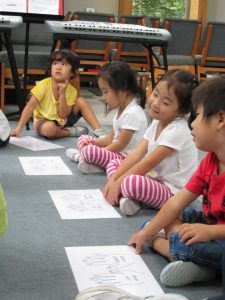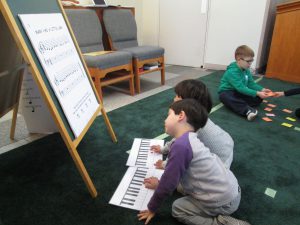 Music and the Brain curriculum is taught weekly to the Preschool class. Musical concepts are introduced at an age–appropriate level. The goal is for students to become familiar with musical concepts and reinforce strong listening skills. More information can be found at http://www.musicandthebrain.org/
The Elementary School class uses the God Made Music curriculum. This curriculum expands on Music and the Brain and includes teaching the students to play the piano. More information can be found at: http://www.praisehymninc.com/god_made_music
Once a term the students perform for parents, staff, and other students to show their achievements. 
Physical Education
Yokohama Christian School is excited to offer PE classes for all students. Preschool students practice a variety of physical skills as individuals and in groups. Elementary school students begin to learn about individual sports and physical activities appropriate for their age.
Computer
Students begin having lessons in computer and technology use from second grade. At YCS, we believe that social and emotional development should come before technology use in the classroom, which is why our students begin studying technology from the second grade.
Latin
Students begin to study Latin from second grade. Latin has contributed a great deal to vocabulary of the English language and can boost any learner's understanding of English vocabulary and influence their ability to decode words.
School Lunch
Nutrition 
Nutritious lunches from home are requested to be high in vegetables and fruit.
Refrigeration and microwaves are not available for use so insulated lunch boxes and thermoses are helpful. Please take care to chop lunch items to an appropriate size for your child's age.
Lunch Time
Hot Lunches are available from Cezar's Kitchen at St. Maur International School and can be ordered for your child at the office on an occasional or regular basis. Menus are posted at school.
More information at: