Mission
At Yokohama Christian School, it is our mission to serve the local Yokohama community reaching out to local, expatriate, and bicultural families. Our aim is to provide a quality education by nurturing students spiritually and academically. It is our goal that students grow in wisdom and knowledge so that they may make a positive impact on their communities for Christ.
Core Values
Four Core Values are crucial to understanding the values and community at Yokohama Christian School.
Classical Education focuses on utilizing the natural gifts that children have at each stage of development. The academic program at Yokohama Christian School focuses on the Pre-Grammar and Grammar phases of the classical learning. YCS aims to equip students with the building blocks of learning at each stage in development in order that each student may be grow in wisdom and knowledge.
For further information about Classical Christian Education at YCS, please click here.
Classical Education believes in building a strong foundation for learning. With Classical principles in mind, YCS has established the following Core Values: Responsibility, Readiness, Respect, and Reverence. We aim to foster these values in each YCS student. For more details on the Core Values see here.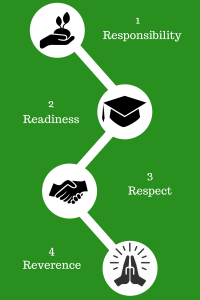 Educational Philosophy
Christ-Centered: In all levels, programs, and teaching YCS seeks to:
❖  Teach all subjects as parts of an integrated whole with the Scriptures at the center (2 Timothy 3:16-17)
❖  Provide a clear model of the biblical Christian life through our staff and Board (Matthew 22:37-40)
❖  Encourage every student to begin and develop his/her relationship with God the Father through Jesus Christ (Matthew 28:18-20; Matthew 19:13-15)
+
Classical: In all levels, programs, and teaching YCS seeks to:
❖  Emphasize grammar, logic, and rhetoric in all subjects (see definitions below)
❖  Encourage every student to develop a love for learning and live up to his/her academic potential.
❖  Provide an orderly atmosphere conducive to the attainment of the above goals.
Definitions:
Grammar: Fundamental rules of each subject
Logic: The ordered relationship of particulars in each subject.
Rhetoric: How the grammar and logic of each subject may be clearly expressed.