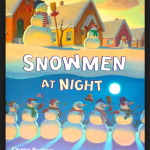 Have you ever wondered what snowmen do at night? Our Seedlings and Sprouts class have been thinking about this question after reading the book Snowmen at Night by Caralyn Buehner. While some students liked to think about them running in races, others imagined them sledding down hills or snowball fighting. This simple question generated a lot of giggling, thinking, art ideas and talking in our classroom. I love to hear their conversations and the words, "Read it again".
Books can do this. Reading books aloud to children stimulates their imagination and helps then to understand the world. It helps them develop language and listening skills and prepares them to understand the written word. So, take some time and read together with your child.
YCS offers a great way to build your library with periodic Scholastic Book Orders. If you need book recommendations, please feel free to ask your child's teacher for some hints for what books might interest your child.